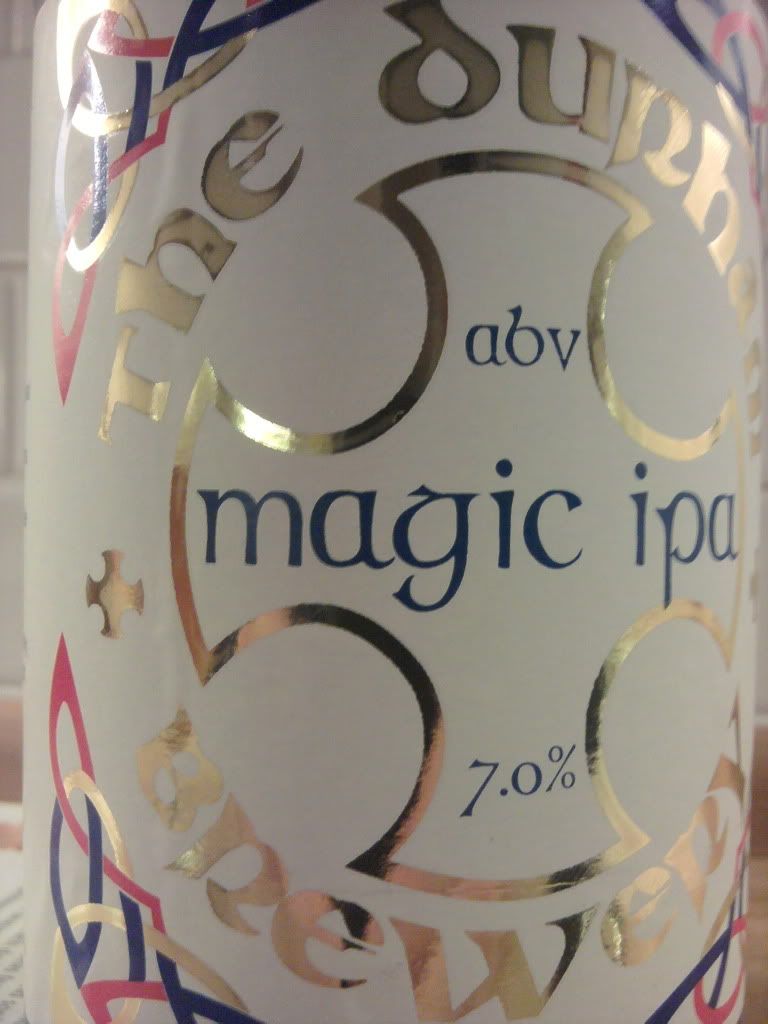 As the bottle tells us, The Durham Brewery Magic IPA (Gyle 2176) is an original replica India Pale Ale. It uses lots of East Kent Goldings hops which provide a rich spicy bitterness against pale maris otter malt.
Poured hazy and orange in colour. The haze could have been due to the excessive chilling! although most likely due to the fact that Durham do not filter or pasteurise to ensure that all the flavour and quality is retained in the finished beverage. A good haze if you will, so drink on! It is a well carbonated beer and quickly formed an impressive head which did not fade, in fact it looked much like the krausen on a happy fermenter…did this indicate a great example of a well looked after bottle-conditioned beer? hell yes!
The aroma wasn't really leaping out of the glass but it did smell fresh and spicy. I would say its aroma was reminiscent of a Belgian beer. First taste delivered good hop bitterness and then a fudge or dairy toffee flavour coming through. I wouldn't describe the overall flavour as complex, but this is no criticism as its so well balanced. There is a lingering bitter/sweet aftertaste which I found to be moreish and most satisfying. Finally, considering its potent 7% abv (50cl bottle) this was an easy-drinker and one I will be buying on my next trip to the bottle shop. Good work guys!
CAMRA says this is real ale, we say this is really good beer!
More on Magic IPA over on The Good Stuff.
(Having just been in touch with Durham Brewery, I now know that Magic IPA is in the process of being re-launched as Bombay 106, as well as the bottle labels, their branding has also undergone a facelift. More information here The Durham Brewery.